News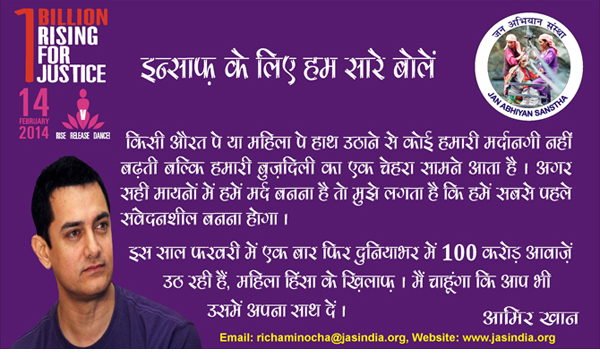 OBR HIMALAYAS RISING - SHIMLA
Jan Abhiyan Sanstha (JAS), Himachal Pradesh partnered with Jagori Dharamshala and the YWCA of Simla and other local NGOs in Shimla to join a worldwide movement called the One Billion Rising Campaign started by Eve Ensler, the noted playwright and women's activists. In 2013 One billion women and men in 207 countries shook the earth through dance and cultural events to end violence against women and girls. This year too on 14 February 2014 women and men everywhere rose again for justice. In Shimla the movement is known as OBR Himlayas Rising and was coordinated this year by Dr. Richa Minocha of JAS. Wishing to make Shimla a part of this historical movement, Jan Abhiyan Sanstha collaborated with the YWCA of Shimla and planned cultural events on the Ridge open air theatre. The participants included Evening college students, students of Rashtriya Kanya Mahavidyalaya and a theatre society. The planned events included a signature campaign, and dances and plays. The performances on the Ridge were to be followed by a pledge taking ceremony and discussions in the YWCA of Shimla complex.

---
JAS AT NATIONAL LEVEL
JAS is happy to announce that we now have members from nine states in India including Assam, Bihar, Delhi, Jharkhand, Haryana, Himachal Pradesh, Kerala, Madhya Pradesh and Punjab as well as a Union Territory, Chandigarh. While JAS was registered earlier only to conduct activities in Himachal Pradesh, with members from nine States and a Union territory it will now serve at the National level.
The following persons whose names and addresses are hereunder subscribed are the members of Jan Abhiyan Sanstha called JAS for short. "Jan Abhiyan Sanstha" is registered under the Societies Registration Act, 1860.
| | | | |
| --- | --- | --- | --- |
| S. No. | Name | Occupation | State / Union Territory |
| 1. | P.L. Beena | Economist | Kerala |
| 2. | Vasanthi Raman | Anthropologist | New Delhi |
| 3. | Lata Singh | Reader in History | Bihar |
| 4. | Ranjana Agarwal | Educationist | Jharkhand |
| 5. | Richa Minocha | Researcher | Himachal Pradesh |
| 6. | Pankaj Gautam | Engineer | Punjab |
| 7. | Vivek Suri | Advocate | Haryana |
| 8. | Chaitan Bedi | Education Consultant | Chandigarh |
| 9. | Tajinder Kaur | Educationist | Punjab |
| 10 | Bharti Pandit | Teacher | Madhya Pradesh |
| 11 | Nalini Yadav | Social Worker | Haryana |
| 12 | Sonia Kha | Lecturer | Himachal Pradesh |
| 13. | Aparajita Sarma | Research Scholar | Assam |