Jan Abhiyan Sanstha
JAN ABHIYAN SANSTHA is registered since the year 2000 under the societies registration act of 1860. JAS registration number is 43/2000.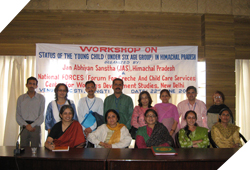 JAN ABHIYAN SANSTHA, called JAS for short is involved with issues related to sustainable livelihoods promotion, health, environmental conservation and action research related to ecological and cultural contexts with a perception which is gender affirmative. The main objective of JAN ABHIYAN SANSTHA is to work on integrated rural and urban development programs including sustainable livelihoods, education, health, food security, governance and natural resource management.
As a grassroot level organization, it is striving for the eradication of poverty and unequal power/gender relations, and also to promote enterprise and concern for the environment. The organization aims at community development through people's participation and bringing about sustainable development of the marginalized following a rights and empowerment oriented approach. In following a rights based approach, JAS is seeking better implementation of existing rights as well as participating in research and debate regarding policy issues related to education, health, food security, early childhood care and development, female foeticide, domestic violence against women, protection of whistle blowers. JAS aims at promoting communal harmony and is involved in cultural studies. JAS is convening the Himachal chapter of Forum for Crèche and Child Care Services (FORCES).